RETRÖ -FITTINGS SET FOR SLIDING DOORS

A sliding door system that is reminiscent of an old-style barn door system that has now found its way to the hearts of interior decorators and renovators a like. The stylish Retrö sliding door fittings set, which is also called a Barn door system is for people who like to design and renovate their apartments and who are looking for individual and stylish solutions.
BARN DOOR SLIDING DOOR MECHANISM WHICH COMPLEMENTS YOUR DOOR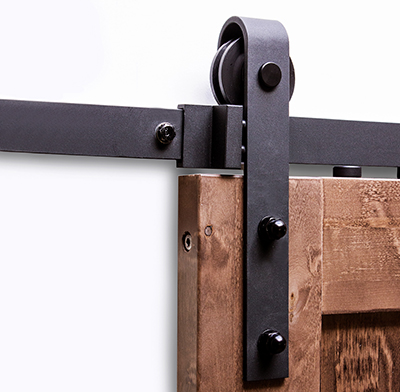 Helaform's RETRÖ adds to our wide range of interior sliding door solutions. Barn door Retrö track mechanism together with your stylish door creates a focus point to the room and adds style to your home. Install the Retrö set to your door anywhere in your home, where you want to add design and functionality. Wall sliding, top hanging system is also a great choice for small spaces, where traditional swinging doors can be in the way or otherwise a difficult solution.
HIGH QUALITY BARN DOOR SET WITH SOFT CLOSES
Stylish Retrö barn door set comes in an attractive matt black finish that is an eye catcher in your living room or bedroom. This system is a ready to use set which is available in two different sizes: 2 and 2.4 meters. You can also continue the track with track joints, so big doorways can be covered with this design door set. In addition you can use two doors side by side with double tracks and a fixing plate. The set includes a soft open and soft close feature that adds to the comfortable and safe use of the door. The Soft close mechanism slows the door's movement when opened and closed and that is why it works well for example in children's rooms. The Soft close also gives the system a light and almost silent sliding action.
CREATE YOUR OWN STYLE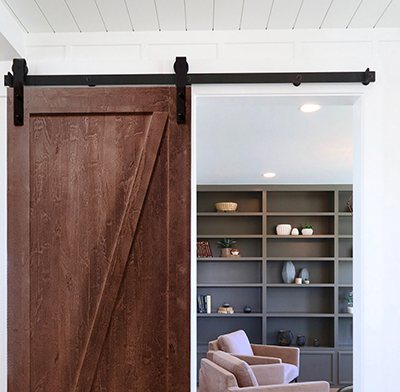 Doors are often a "forgotten" part of the home. With the new modern and stylish sliding door models in can become one of the most important features in  your home. Barn doors do not only change the atmosphere of the home, but they also add versatility which can change the way you look at your home. Retrö can be used as a room divider in living rooms, kitchens and foyers or even in wardrobe doors. So it suits different spaces and styles, whether you are looking for a romantic or Scandinavian style, Retrö adapts to all. Barn doors have become extremely popular, so it is modern homes must have design element.
SUITABLE FOR ALL DOOR TYPES
The "rustic" Retrö is extremely easy to install and suits all different door types. Any door that you can make holes in for the hangers can be used with the Retrö mechanism. Whether you have an old door, which you want to make into a barn door style or you have a modern door, which you want to turn into a gorgeous sliding door to suit your home's style, Retrö makes it all possible. So, use any door you want and make your design dreams come true.
Retrö barn door set is delivered in an easy DIY set, which is quick and easy to install. Additional components are available for the set such as handles, joint to connect the tracks and fixing plate for double tracks.