What is a cable trolley system?
Cable trolleys are used to carry jibs, bridge cranes, saws, washing facilities and oxy-fuel cutting machines that carry for example electricity, gas and liquids. Flat and round cables as well as hoses can be moved easily and effortlessly in large production facilities. Cable trolley systems are economical and trustworthy systems.
---
How to choose components for a cable trolley system?
On this page you will find a list of components that make up a cable trolley system as well as a few easy steps to selecting them. There are of course some exceptions in the series and if you have any questions feel free to contact our sales department or our distributors.
1. SLIDING TRACKS AND BRACKETS
In cable trolley systems sliding track length is determined based on the project requirements. Tracks are usually attached by brackets. You can choose either wall or soffit brackets. The number of brackets is chosen based on the track length. Typically, the bracket interval is 1 meter, so for example with a four meter track you need five brackets.
If needed you can also join two tracks with track joints or joint brackets. Using a track joint supports the track junctions and locks the track ends together.
---
2. HANGERS AND CABLE TROLLEYS
Cable trolley systems include three different types of cable trolley hangers: two for flat cables and one for round cables and hoses. Cable trolley hanger's maximum weight capacity is 50 kg per hanger.
Cable trolley for flat cables include a cable holder. Towing trolley works in towing bar systems pulling the trolley forward and the end clamp holds the system (check accessories). Hangers for round cables and hoses include a cable/hose holder that can be used for different size hoses and round cables.
The amount of cable trolley hangers can be calculated as follows:
N= End clamp (strain relief) + Cable trolleys + Towing trolley (prime mover)
L = Ride (track length)
Y = Cable sag 1.2 = Addition to cable length (10-20 %)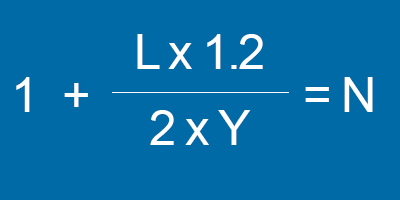 Cable sag:
Referred to the length of the sag of the cables when the trolleys are bundled together
Recommendation is that the sag is between 0.3 – 2 metres. The bigger the sag, the less cable trolleys are needed. In the other hand, the weight load increases towards each trolley while the sag increases
In curves, the sag is recommended to be 1/3 of the radius of the curve

---
3. TRACK STOPS
Cable trolley systems typically include tracks stops on both ends of the sliding door track to stop the cable trolley hangers from falling of the track. Flat cable systems that include cable holders are an exception since they already prevent the hanger from falling of the track.
---
4. ACCESSORIES
End clamp is a trolley that is fixed in one place, which prevents hangers from going too far in the track. This also reduces the pressure from the hangers
Attachment bracket can be used to attach the track with an I beam. Attachment brackets must be installed two per each side of the I beam.
Cable/hose holders can be attached straight to the cable trolley hanger.
Spacer for cable carriers can be used to connect various cable holders in a chain underneath one hanger.
If any questions, you can contact our sales department or our distributors.