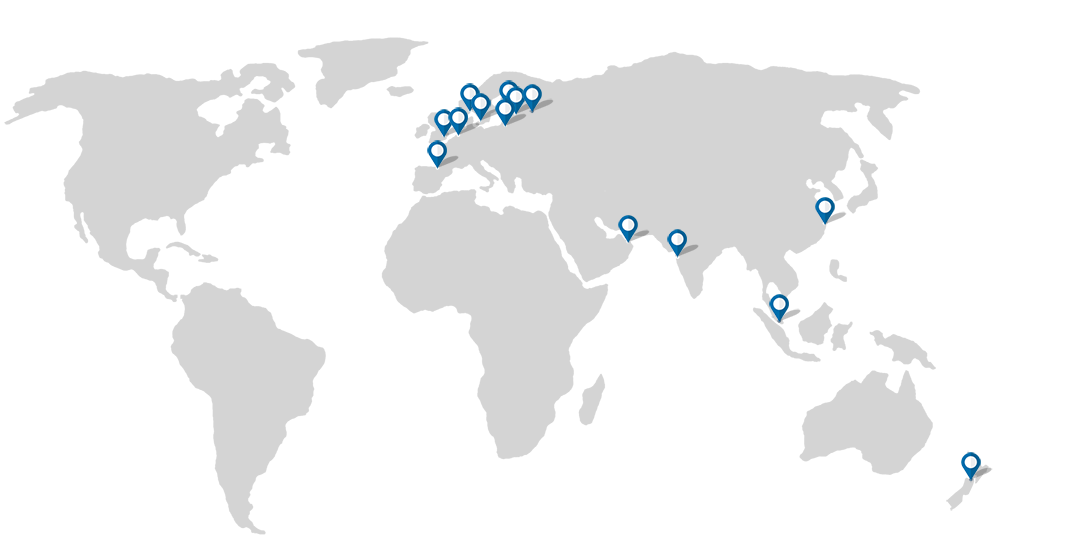 China
Shanghai Helaform Construction Hardware Co., Ltd.       
Building Nanzheng, No.580, Rd. Nanjing(West),
RM3113~3115, Shanghai
Tel.  +86 621 778 33
Fax  +86 216 21 783 77
Contact person: Marcel Feng, mobile 0086-13817666460
wenwu_feng@163.com
www.helaform.com.cn/
Estonia
As Saku Metall Uksetehas Saku 13
11314, Tallinn
Tel. + 372 6118400
Fax + 372 611 8401
Contact person: Tiina Kirt  tiina.kirt@sakumetall.ee
info@sakumetall.ee
www.sakumetall.ee
Saku Metall Group is one of the leading door manufacturer and subcontractor of the Baltic region.
The group consists AS Saku Metall Uksetehas (door factory) and AS Saku Metall Allhanke Tehas
(subcontracting) companies with modern production facilities. Saku Metall Group has been a partner
with Helaform already from the beginning of the 21st century.
Netherland
Morfrom sliding innovations and solutions
P.O. Box 275
2270 , AG Voorburg
Tel. +31 7936 11166
Fax. +31 7936 11205
info@MorfroM.nl
www.MorfroM.nl
MorfroM bv is a Dutch company dedicated to the distribution of Helaform products. The employees
long history and expertise to supply construction fittings, hardware and tools, as well as sliding door
hardware for the marketpalce guarantees the excellense in service.
Lithuania
Kesko Senukai Lithuania
Islandijos rd. 32 B
51500, Kaunas
Tel. +370 37 304 864
Fax. +370 3730 4142
marketing@senukai.lt
www.senukai.it
Kesko Senukai Lithuania is Baltics' major store chain offering building, remodelling and household
goods in the Lithuanian, Latvian, Estonian and Belarus markets. The co-operation with Helaform
started at the beginning of the 21st century, enabling the supply of sliding door hardware through
the stores and wholesale division.
Malaysia
Keyline Consulting SDN BHD
Grd Floor Wisma Disccomp,Lot 135 Jalan 1/89B , 3.1/2 mile off Jalan Sg Besi
57100, Kuala Lumpur
Tel. +60 3 7987 8266
Fax +60 3 7987 9266
Contact person: Mime Lee/ Michael Pan
info@keyline.com.my
www.keyline.com.my
KEYline Consulting Sdn Bhd is a Malaysian incorporated company specialized in supplying architectural hardware and security solutions for door and window applications.
New Zealand
Co-Mac (PN) Ltd
105 Kaimanawa Street
4440, Palmerston North
Tel. +64 6 350 0015
Fax + 64 6 354 2662
orders@comac.co.nz
www.comac.co.nz
Co-Mac (P.N.) Ltd is a family owned and operated engineering hardware business, established in 1987.
The company´s specialty is supplying New Zealand, and overseas companies with 'hard to find hardware'
and a range of various other products.
Norway
Storm Halvorsen As
Klinestadmoen 5
N-3241 , Sandefjord
Tel: +47 334 23630
Fax: +47 334 23631
storm@ish.no
http://www.stormhalvorsen.no/
Storm Halvorsen AS is specialized supplier of industrial components and solutions. The company's
expertise in the Norwegian markets has lasted for over 30 years, while the co-operation with Helaform
started already in the 90's.
Oman
Special Products LLC
1-A2, 1st Floor, Coral Building, Building
No. 3235, Way No. 3341, Nr.
Zakher Mall, P.O. Box 447, P.C. 131,
Al-Khuwair, South muscat
Tel. + 968 2447 5375 / 216
Fax + 968 2447 5381
Contact person: A.S. Rajendran
Russia
Okna Exclusive Ltd
Liteiny Prospekt 40, litera A, 19n
191014, Saint Petersburg
Tel: (812) 579 90 80
info@helaform.spb.ru
Okna Exclusive was founded in 1991, by dedicating into the supply of Hiqh Quality hardware for
furniture and door and window industry. The distribution of Helaform's products to the Russian
markets started in 2010
Singapore
paceweiss
91 Kaki Bukit Ave 1, Shun Li Industrial Park,
415980, Singapore
Tel.  +65 6846 9148
Fax  +65 6744 5185
www.spaceweiss.com
Spaceweiss is focused in the supply of comprehensive range of furniture hardware and accessories.
The company has its roots in Singapore but the High Quality product range is supplied also over to
Malaysia and China.
Slovakia
Remars S.R.O.
Hornočermánska 1
949 01 , Nitra
Contact persons:
Radomír Salanci, tel.  + 421 905 261 552
Róbert Ťapušík, tel. + 421 917 420 640
remars@remars.sk
www.remars.sk
Remars s.r.o. is focused to the production and supply of building hardware, stamping and tool
manufacturing since 1995. The main production program of the company is manufacturing of
door and window hinges.
Spain
Polarform, S.L.
B°. San Juan 47, Apartado 16
20750, Bergara (Guipuzcoa)
+34 943 762 376
polarform@polarform.com
www.polarform.com
Polarform, S.L, is a company dedicated to the manufacture of Press Tools and Pressed Sheet
Metal components, with more than 35 years' experience in these fields. The company is principally
orientated to the lock and automotive industries, as well as to the distribution of sliding door hardware.
Sweden
Trident Industri AB
Metallgatan 27
262 72 , Ängelholm
Tel. +46 (0)44 95 00
Fax +46 431 839 37
info@trident.se
www.trident.se
Trident Industri Ab is one of the leading suppliers of sliding door hardware through the biggest
retailers of building materials in Sweden for the construction and industrial need. Besides supplying
complete sliding door packages, the company manufactures ramps for residential and public buildings.
The co-operation with Helaform has laster since the foundation of the company, from 1983.
U.A.E.
We are looking for new distributors from the area.