Useful information about sliding doors
Why sliding doors?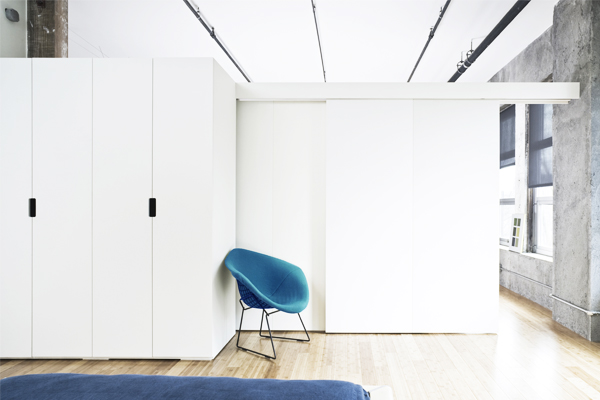 Versatility of sliding doors
Sliding doors open unlimited possibilities for the diversity of a space. You can easily divide spaces and even create complex space solutions. With a sliding door you can also create space and make a smaller space larger by combining several rooms together.
The current trend in modern apartment building is to build smaller apartments and utilize every square mile. In these situations, a sliding door is a popular door choice. Where opening a hinge door would be tricky and bulky, a sliding door does the same easier and by saving space. Sliding door systems open possibilities for interior design, since sliding doors can also be used as movable walls.
A sliding door is not just a door, which is simply a mandatory equipment for closing and opening door ways. It can be much more. A sliding door is part of the interior design, a space enabler and part of a carefree everyday life.
---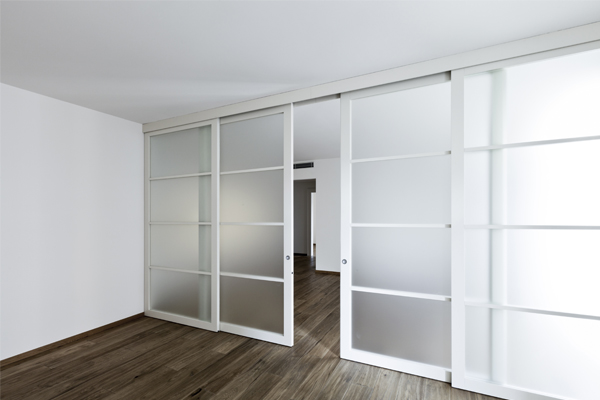 Interior sliding doors

A sliding door is a popular solution for interior doors, when you want stylish and practical doors that don't take up room. When two spaces want to be made into one and then divided into two rooms, a sliding door is the easiest solution. Compared to a hinge door sliding doors save floor space, so they are well suited for room dividers in small apartments.
Helaform offers sliding door systems for light interior sliding door solutions. You can choose for example a streamlined designed 75 Flow series or for heavier doors SAGA series or if you want to hide the track and hangers you can choose Cover plate set 75 Flow. Our sliding door systems include special features, like a Soft Close that closes the door softly and smoothly and is installed completely inside the track. Helaform also offers solutions for under 45 kg wardrobe doors. If you have a need for wardrobe or cupboard doors, you can check out our selection of wardrobe sliding door systems.
The simplest assembly of a sliding door is fixing the track to the wall and a bottom guide to the floor, so it is possible for anyone to install and it is also simple to install afterwards during a renovation.
---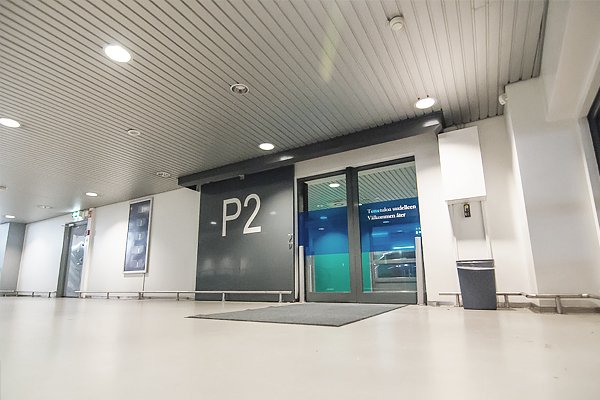 A sliding door for commercial and industrial spaces
When a regular interior sliding door is used a few times a day, an industrial or commercial sliding door is opened and closed much more often. Due to this it is important that the door is durable, safe and long-lasting.
Top-hung sliding door systems are handy in industrial spaces since they leave the floor accessible for traffic such as trucks, fork lifters etc. With Helaform's sliding door systems you can achieve an industrial sliding door for up to 2000 kg door weight capacity. A sliding door slides smoothly on the track and is light to move due to its high quality ball bearings.
Familiarize yourself here, with what sliding door series Helaform has and what the different series mean!
What our sliding door series mean?
Our product series are based on our sliding door tracks. By combining the series sliding door track with different hangers, brackets and fixing options, you can use the complete set for different assemblies, be it in sliding doors or applications.
Since our products have a wide variety of assemblies and uses, we have created a Solutions section, where we have collected the most common assemblies in Helaform's product series. There is still a lot more variations and solutions that are not included, so don't hesitate to contact us or our distributors and we will help you find the best option for your project! Please note that generally only the products in the same series are compatible with each other.

Series 30, 40 and 60
Series 30, 40, 60 are designed for light sliding doors, which are used in closets and wardrobes. Depending on the series you can use these series for up to four door sliding door systems. Shelves and racks can be easily hidden when assembling a sliding door and thereby improving the layout of the home. Series 30 and 40 sliding door systems are available in easy to install Do-it-Yourself packages, which include all the needed components and assembly instructions for a sliding door installation.
– Wardrobe and cupboard sliding doors
---
 Series 75
Series 75 is one of our most versatile series. This series includes several different sliding door track options, which you can build a set around for straight sliding doors, interior folding doors and even wardrobe doors. This series offers a wide variety of installations, but it is mainly designed for interior sliding doors. The series includes options for metal, wood and glass doors. Series 75 is also available in easy to install Do-It-Yourself packages.
– Interior and exterior sliding doors
– Interior folding doors
– Accordion doors
– Wardrobe doors
– Sliding curtains
---
 Series SAGA 150 and SAGA 300
Durable and stylish SAGA series is designed for heavy interior and exterior sliding doors. The track's stylish design can endure the most demanding eye and the sliding door system is extremely silent and light to use. SAGA 150 and SAGA 300 series have a lot of similarities with only a few differences, with the main difference of SAGA 300 series being for doors up to 300 kg.
– Sliding doors for official premises and foyers
– Room dividers for conference facilities
– Sliding doors for architectural spaces
– Custom made sliding doors
---
Series 100
Versatile Series 100 for medium weight solutions. It is an excellent series for a variety of sliding doors, but it is mainly used in different applications, such as moving protective curtains in gyms or conveyor systems to reduce workload. The series also includes cable trolleys for flat and round cables.
–  Interior and exterior sliding doors
– Folding doors
– Sliding curtains
– Conveyor systems
– Cable trolley systems
---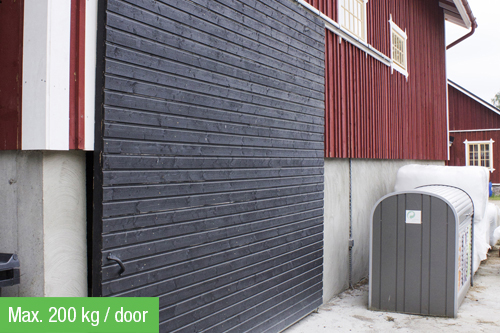 Series 150
One of the most popular series for medium weight sliding door solutions. This series sliding door systems are popular due to them being moderate in size, but still capable of carrying a heavier load. For industrial and commercial spaces the 150 series offers a wide variety of solutions due to its 200 kg weight capacity. This series is used mainly in different warehouses, agricultural buildings, horse stalls and stables.
– Interior and exterior medium weight sliding doors
– Folding doors
– Sliding curtains
– Conveyor systems
---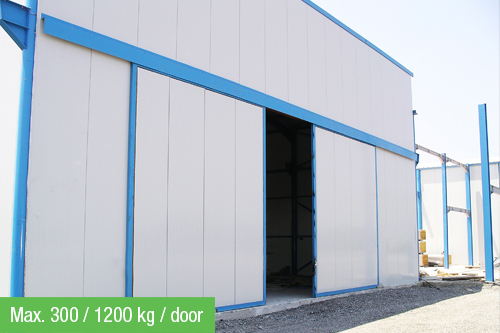 Series 300/500
Series 300/500 offers sliding door systems for mainly industrial and commercial spaces for heavy sliding doors. A wider door opening can stylishly be covered with big sliding doors, which are easily moved by sliding door systems. The series weight capacity can easily be increased between 300-500 kg by changing the track. Series 300/500 are mainly used in industrial buildings, big storages and interior commercial spaces for example in heavy interior sliding doors and fire doors. In addition to being used in sliding doors, this series can also be used in conveyor systems and production lines.
– Interior and exterior heavy sliding doors
– Industrial doors
– Fire doors
– Folding doors
– Conveyor systems
---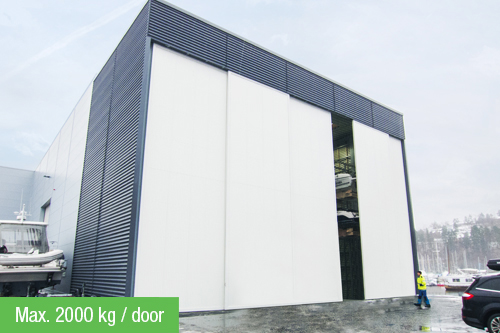 Series 2000
Durable and safe sliding door systems, which are designed for extremely heavy straight sliding doors. This top-hung system's benefit is that extremely heavy loads can be moved lightly and it leaves the floor accessible. The series components are designed for a simple assembly as well as long-lasting and safe operation. This series is mainly used in airport hangers, tire and depot storages as well as in larger industrial projects.
– Interior and exterior extremely heavy sliding doors
– Big storages
– Extremely heavy conveyor systems