Folding doors – transform according to your need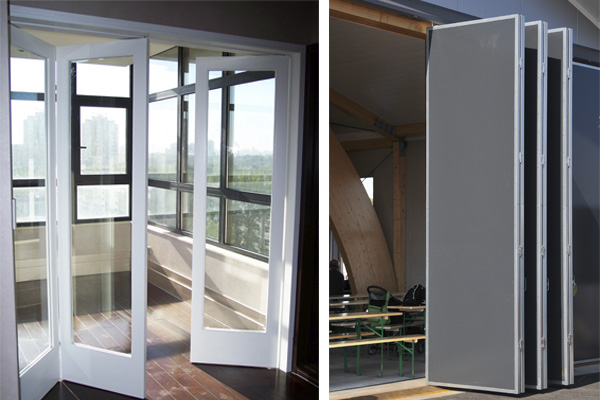 FOLDING DOORS CAN BE USED AS ROOM DIVIDERS IN A VARIETY OF SPACES
Folding door is a door installation that is made up of hinged door leaves. Folding door opens and closes with the help of a track. The track makes sure that the whole opening is utilized, but still so that the whole wide of the door does not take space from the opening, either from side of the door or the front of the door.
Folding doors are used as room dividers in homes as well as in industrial and agricultural environments. In these spaces folding doors are mainly used in bedrooms, dining rooms, warehouses, storages, garages and for example cow sheds. The door leaves can be folded either with end-, centre- or side folding systems. 
The folding door installations door material depends mostly on the assembly. Wooden framed glass doors are usually used in apartments and square-type steel tubing covered with steel sheets or cladding is often used in agricultural and industrial buildings. Folding doors can also be automatic, soundproof and weatherproof which requires more from the door material and systems.
---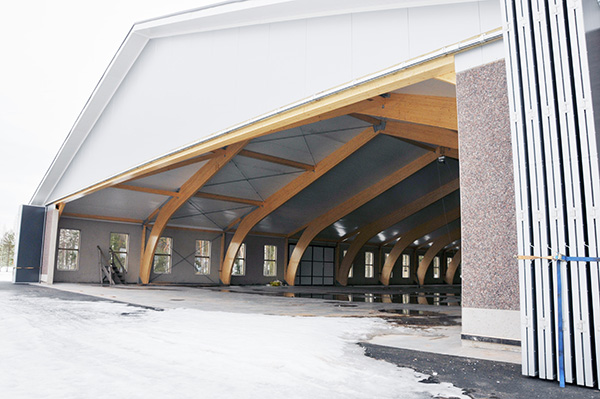 A FOLDING DOOR DOES NOT RESTRICT THE WIDTH OF THE OPENING
The door size is restricted typically by the door technical qualities or due to the folding door system requirements. When it comes to the folding door systems, the main restrictions are the weight per door leaf, the amount of door leaves and the size of the door leaf, which varies by the manufacturer. Helaform's folding door systems enables the installation of eight door leaves per folding side. The weight of a door leaf can be up to 150 kg, while the width can be 1 m and the maximum height can be 4.5 meters. With these measurements the door opening can be up to 16 meters wide, if the door leaves are open on both sides of the opening.
---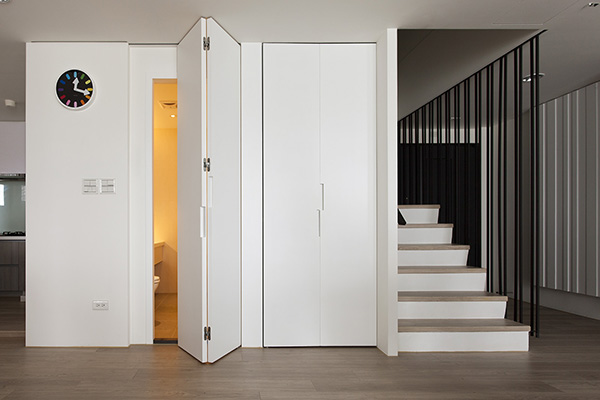 WITH FOLDING DOORS, YOU CAN GET CREATIVE
Used in apartments folding doors can be a stylish part of the whole apartment interior décor. With folding doors, you can increase the diversity of your apartment and easily transform rooms into more  diverse spaces. It is a modern and practical option when you want stylish and different options to the traditional doors. When the opening is larger than normal, you can still get a practical solution to your opening with a folding door.
---