Helaform made customized track system for sliding glass wall for Flow Modules Ltd
Flow Modules Ltd developed an intelligent mass-customized bathroom module that simplifies design, streamlines construction and brings a touch of luxury to residents 'lives. The bathroom module's built-in sensors and intelligent functions provide access to real-time information such as electricity and water consumption and air quality. Helaform made a customized sliding track system for these bathroom modules.
Glass sliding wall with customized 75 series sliding track system
All Heart-, Heat- and Mini-versions of the Bathroom 2.0 family include a sliding glass wall. The sliding glass wall from ceiling to floor acts as a shower door, protecting the washing machine and freeing up valuable utility squares. Depending on the equipment level of the bathroom module, the sliding glass wall will have either an aluminum or black glass holder as part of the sliding track system. Convenience and safety were greatly increased with the Soft close, which closes the door softly and calmly. At the opening end, the glass sliding door is damped by a Soft stop, which also sticks to the door, holding it in the open position.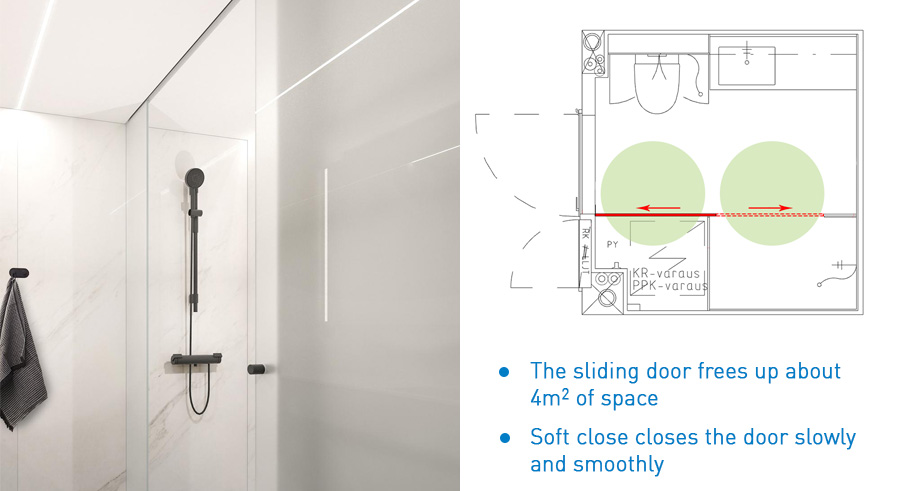 Close cooperation from the beginning
The co-operation was started already at the design stage with Arkkitehtitoimisto Kanttia 2 Oy and the modular builder Flow Modules Ltd in order to find the best possible sliding track solution. The most important elements to be considered for the sliding track system were the functionality and appearance of the sliding door, as well as the suitability of the sliding track for the modular structure and production, where e.g. quick and easy installation are emphasized. Helaform's strong know-how and years of experience as a manufacturer of sliding track systems ensured that these criteria were met.
The product customization included an unframed glass sliding door fastening mechanism, the development of a sliding track to fit the modular structure, and a locking fitting used to transport the bathroom module from the factory to the construction site. Thanks to the excellent co-operation, the first customized product prototypes were delivered within a few months of the start of the co-operation, while the finished product package was already in delivery in less than a year.
Comprehensive cooperation from the beginning to the end of the project made it possible to solve the product's appearance, functionality and installability in a cost-effective way, so that it was suitable for the customer's needs. Continuous co-operation ensures flexible warehousing and deliveries, and further product development is smooth.
Do you need track systems for sliding glass doors?