Fittings sets for Sliding doors
Everything you need for your door to slide in one package!
Helaform offers a wide range of do-it-yourself Fittings sets for sliding doors, that include all you need for one or more sliding door or folding door installations. With these fittings sets all you need is a door, for example in hardware stores you can find basic flush-panel doors, that are used as sliding doors. 
Sliding door fittings sets are available with different track lengths. You can also choose sliding and folding door fittings sets without tracks. Choose either aluminium or steel tracks and, if needed brackets.
Here are a few easy steps for you to select the right Fittings set for you:
1. What the sliding door is used for?
Choose the series based on the space and weight.

2. How you are planning to hang the sliding door?
Sets are available for wall and/or soffit fixing.

3. Choose the sliding door length according to the width of the door way. 
Sets available with different track lengths.
In general the track length is 2 x the width of the doorway.
---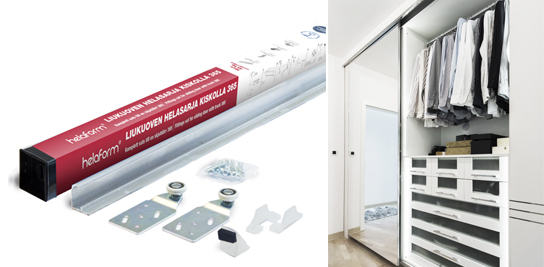 Sliding door fittings set with track 365
---
Sliding door fittings set with track 465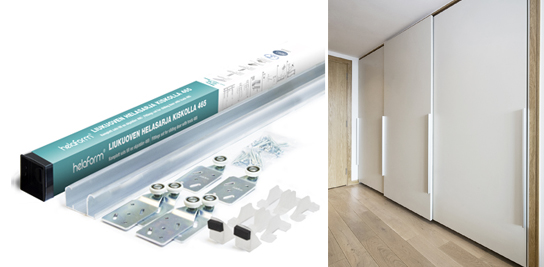 ---
Sliding door fittings set with track 805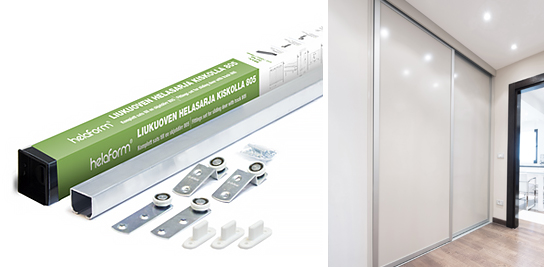 ---
Sliding door fittings set with track 75 Junior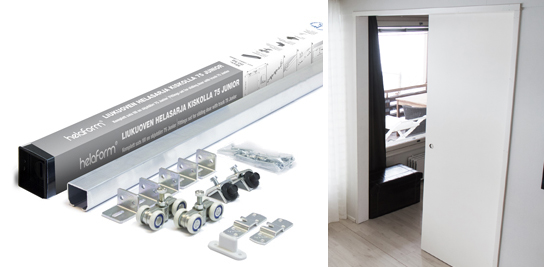 ---
Sliding door fittings set with track 75 Flow
---
---
Cover plate set 75 Flow Curved
---
Sliding door fittings set with track 755
---
---
---
---
Assembly sets